END THE BLOCKADE OF YEMEN
Sign a Yemeni doctor's open letter to the UN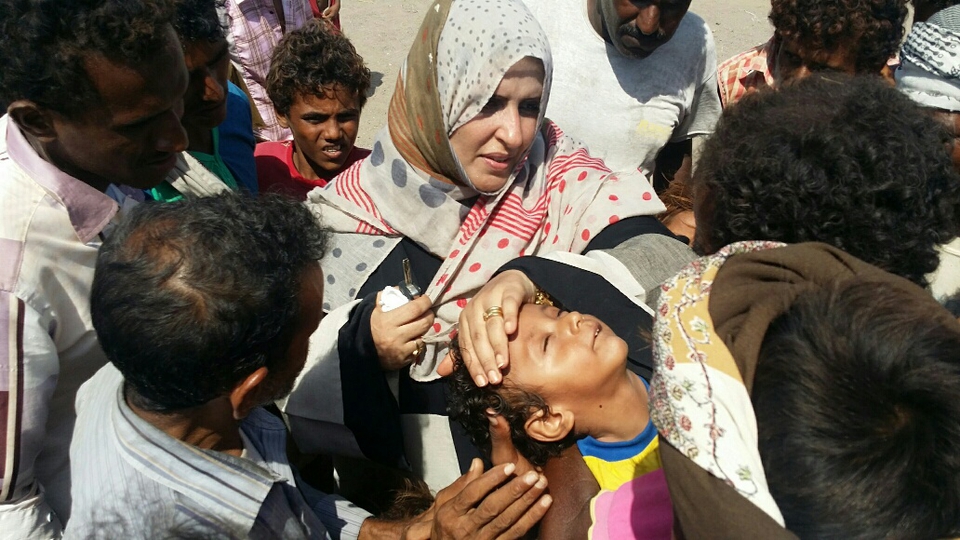 Above: Dr Ashwaq Muharram
Update: We did it! Saudi Arabia has lifted the blockade for a short period and at least 16 cargo ships have arrived in Yemen. Join our campaign here
A vicious blockade led by Saudi Arabia has shut Yemeni ports, destroyed our roads and restricted flights into my country.
Without urgent action, this will lead to the world's worst famine in decades. 17 million people already don't have enough to eat.
I want the UN Security Council to hear my words, as a doctor, to really understand what is happening here.
They can press Saudi Arabia to, as a minimum, open Yemen's major ports fully to allow in both humanitarian and commercial goods.
Can you sign my letter calling on these governments to stop the Saudi Arabia-led coalition from starving my people to death?
Dr Ashwaq Muharram
See the letter in full:
Dear Members of the UN Security Council,
Here is my story - the story of the people of Yemen. A vicious blockade led by Saudi Arabia is compounding the effects of an ongoing terrible war. I have been a doctor for 19 years and I have never seen the situation in my country get so bad.
Now the problem is no longer hunger – it's the threat of imminent starvation. And it has got so much worse since the beginning of the war.
Over the past three years of war I have volunteered my time to setup a personal mobile-clinic in my own car. I drive it from district to district to visit people and distribute any medicine and food I can get hold of.
I started alone. I would buy food with my own money and then go to a village in need and distribute it there. Back then I had a small team with a driver, a secretary, a nurse and a mid-wife, and now friends ask to come with me to help. The deteriorating situation and the blockade is only leading to more of my people falling in to the trap of sickness and hunger.
Right now 17 million of my people do not have enough to eat. One child in my country dies every ten minutes. Water in our capital Sana'a will run out next week, and there is no fuel left to clean or pump it. Unless Saudi Arabia allows fuel in soon, I won't be able to run my mobile clinic. And unless commercial food shipments can come in, even more people will starve.
Ships must be allowed to provide commercial supplies. Roads must be repaired. Airports must be opened for those injured by airstrikes and those suffering from disease.
This whole situation makes me so sad. I often cry for these people. You can't imagine how they live, how they manage to survive with this level of poverty. I am hurt for those dying because of disease, hunger and airstrikes.
I met Abdulrahman, an 18-month old baby who is lactose intolerant, and whose mother cannot afford the milk he needs. They and all the others are like my children, but sometimes I can't help them. I struggle to look at them, to see their pain - it's unbearable.
Some people have tried to reach faraway airports to access medical aid, travelling hundreds of kilometres on bad roads and up to 26 hours through checkpoints by land. This is agony for a person already in a lot of pain. Medicines aren't available. Nor are sources of income for many families. Thousands are in need of dialysis as well as medicine for tuberculosis and hypertension. Such medicines are scarce because the ports are closed. Sometimes they can be found in the markets – but at unaffordable prices.
Then there is the danger. I don't feel safe when I drive, because of the many bombings around me. Sometimes people want to stop me from going to certain areas because I'm a woman, and they say it's too dangerous for me. So I find other ways to get there. I'm scared every time – but I'll never stop. Sometimes people want to stop me from going to some areas because I'm a woman, and they say it's too dangerous for me. So I find other ways to get there. I'm scared every time, but I'll never stop.
The impact on women here has been huge. I quote the Yemeni Women's Pact for Peace and Security for some statistics:
"Women are the most vulnerable and deeply affected. Many Yemeni women have taken the entire burden of securing daily bread for their families, having lost their breadwinners in the ongoing war, with no job opportunities, and the suspension of civil servant salaries. The number of women in need of protection exceeds 4.5 million. Meanwhile, more than 1.1 million pregnant and lactating women are malnourished, and at risk of cholera and other diseases. The health of women and their families has suffered greatly with 65% of reproductive health facilities and 55% of primary health facilities out of service."
What we need here is safety, food, medicine, water and fuel. Despite all the challenges, I continue to help people. But the war continues and starvation continues.
Please - end the blockade of Yemen.
Signed,
Dr Ashwaq Muharram,
Al-Hudaydah,
Yemen