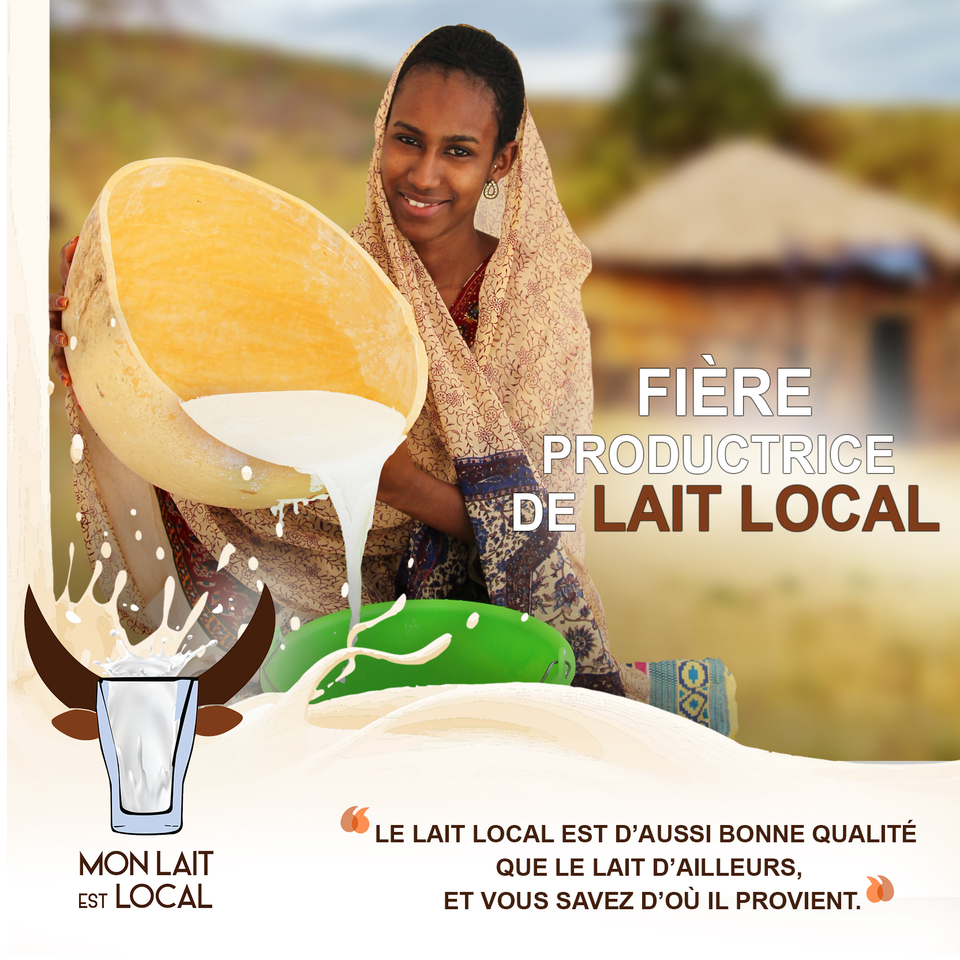 Let's support local milk
For several years now, European milk powder has been invading the local African market and causing local producers to lose jobs while depriving you of the nutrients found in real milk. This milk powder which is fake since it is re-fatted with vegetable oil, especially palm oil - whose production has consequences on the environment - and is sold up to 30 or even 50% cheaper than locally produced milk because it benefits greatly from the low ECOWAS customs tariffs (5% for milk). These low-price conditions encourage local processing units in West Africa to use fake milk to the detriment of local milk, which is difficult to sell in the good production season.
This competition between rich and healthy local milk and the fake milk thus obtained is unfair. It destructures and weakens the local milk sector and thus weakens the livelihood of several thousand producers in Africa who can no longer make a dignified living from their activity.
They also suffer the consequences of the Covid-19 pandemic. Indeed, the closure of borders and markets, and lock down measures have prevented the free movement of dairy products, veterinary services, and livestock feed, leading to production losses and household indebtedness. The crisis has thus led to the continued impoverishment of pastoralists, producers and their families, resulting in food and nutrition crisis situations within communities, while pastoralism and agropastoralism provide a livelihood for more than 48 million people.
Moreover, for us consumers, the effects on our health and that of our children of this fake milk, often mislabeled, are not controlled.
#MyMilkIsLocal
An encouraging first step is that ECOWAS has defined the regional strategy for a local milk offensive accompanied by an initial Priority Investment Program. In December 2020, an important meeting of West African Heads of State will be held. At this meeting, our political leaders will make important commitments and it would be an opportunity for them to validate this regional strategy and its priority investment program which propose concrete measures to protect and develop local milk industry now and for future generations. But we need your support to put pressure on these decision-makers.
Since 2018, this petition has been launched by the "My Milk is Local" campaign to urge heads of state to act and protect this vital sector of the economy. The petition has been signed by 36,201 people to date and aims to collect 55,000 signatures. In addition, a "virtual march" will be organised between now and the next ordinary summit of ECOWAS Heads of State, mobilising all actors in the sector and its supporters, to call on governments to finance the implementation of the strategy and the Priority Investment Programme of the "regional milk offensive".
The crisis in which this sector finds itself challenges all of us, the actors of the "My milk is local" campaign, We therefore call on you to take action to help develop our local economy by protecting small-scale milk producers, to make a commitment for the benefit of your health and that of your children; join the "My Milk is Local" campaign now by signing the petition so that our political decision-makers hear our call!
Our milk is local, our REAL milk is local!
Sign this petition to call on our governments to commit to :
- To accompany the actors of the dairy sector to become more resilient to the effects of climate change in the long term.
- Mobilize funding for the implementation of the Milk Offensive Strategy and Priority Investment Program ;
- Raise import taxes on imported dairy products ;
- Take targeted measures to exempt local milk from VAT;
- Strengthen market transparency - including on blends of fat-refined powders with vegetable oils and through labelling on origin and milk content ;
- Make foreign investment conditional on local milk collection obligations;
- Use new tax revenues to support the development of the local milk sector.
#MyMilkIsLocal
My Milk is Local is a regional campaign to defend and promote local milk, implemented by a broad coalition of more than 55 organizations including farmers' organizations of breeders and farmers, consumers, researchers, NGOs, mini-dairies and local industrialists. The campaign is supported by internationally renowned ambassadors and is active in six countries: Burkina Faso, Chad, Mali, Mauritania, Niger and Senegal.
For more information: www.monlaitestlocal.africa