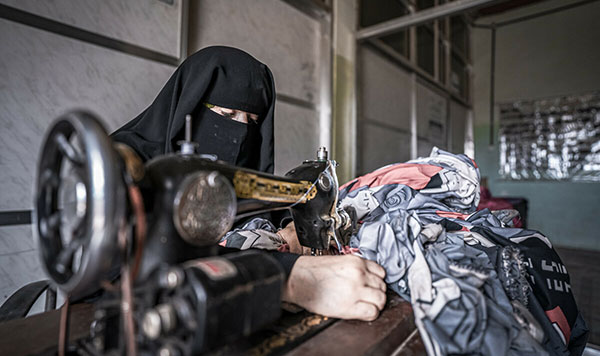 Photo: VFX Aden / Oxfam
"War affected us greatly and made us flee our homes which forced me to stop the sewing work completely."
Yasmin in Yemen
"Oxfam assisted me a lot because they provided me with financial and moral support and motivated me to move forward in my line of work."
"They organised training courses in sewing that I have benefited from a lot which has made me successful in my life. The number of clients increased, and thus my profits increased which helped me to provide proper education to my children and cover my household expenses."
"War affected us greatly and made us flee our homes which forced me to stop the sewing work completely. When the situation in our area became stable, we returned to our homes, but the ongoing war made me face many difficulties - most significantly the currency fluctuations which caused an increment in prices of fabric and all the items I needed to do my work. This affected the rate of sales and purchases and my sales declined."
It is now seven years since conflict escalated in Yemen, which has left millions of Yemeni people enduring extreme suffering in one of the most fragile countries on Earth.
Powerful forces have continued to fuel this war. The UK government – for example – have for years allowed the sale of arms to Saudi Arabia to carry on. Arms that have been used in the war in Yemen.
More than 20 million Yemenis are now reliant on aid to survive, despite their incredible resilience and drive to change things. Ultimately, they need all parties to the conflict to agree to an immediate end to the violence and commit to achieving lasting, inclusive peace.
The people of Yemen will not have their lives overshadowed by conflict. Join us in a simple act of resistance. Mark this moment by understanding the stories of ordinary people, living their lives through relentless war. And with a couple of clicks, share their stories with your MP.