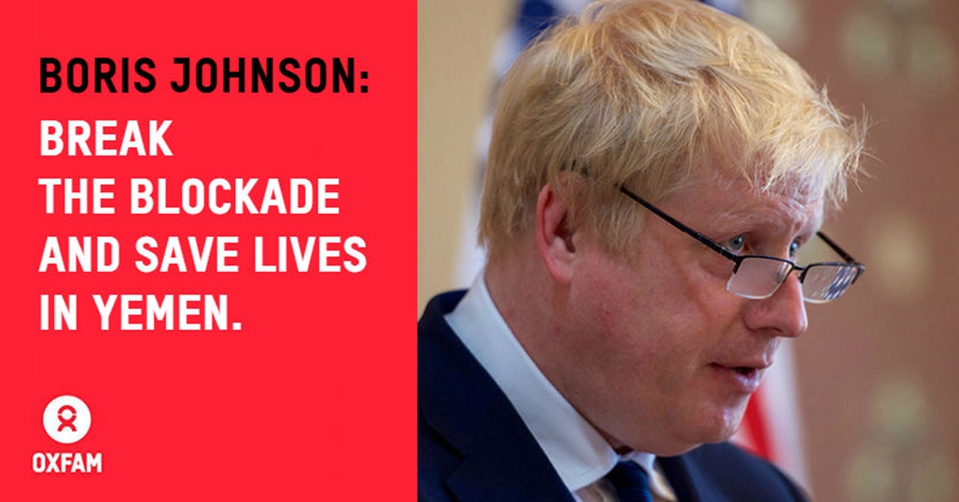 URGENT ACTION:
BORIS: BREAK THE BLOCKADE – DON'T LET YEMEN FALL INTO FAMINE
Right now, people in Yemen are trapped under blockade, facing famine and struggling through one of the worst humanitarian crises in recent memory.
Since 6 November the Saudi Arabian led Coalition has blockaded Yemen's ports and airports, leaving people without food, fuel, and medicine. Humanitarian aid alone cannot feed 17 million people, it's crucial that all ports and airports are open to receive commercial goods as well. Conflict has raged for almost 1,000 days. Ordinary Yemenis are running out of time.
The UN warns of a famine that could claim 7 million lives if the blockade isn't lifted immediately. The UK Government has already failed to stop selling arms which are fuelling the conflict and failed to support sanctions to force Saudi Arabia to lift the blockade, it must not now become complicit in a famine in Yemen.
Boris Johnson needs to hear that the British public will not sit back as millions of Yemenis face famine.
We need Boris to insist that the blockade is lifted, and that humanitarian aid and commercial imports can be delivered. The UK Government has the power to help ensure food, fuel and medicine can reach people and stop fuelling the conflict through arms sales to the Saudi-Arabia led coalition.
Tell Boris to break the blockade.
All sides in this war must stop the destruction. The UK government can use its influence to help make this happen – and put Yemen on the path to peace.