Stand As One with Refugees
Push the UK Government to help refugees find the safety they desperately need.
We all want to live in safety with our loved ones. In a place we can call home. But conflict, disaster and poverty has made home a distant memory for millions of people.
Closed borders, dangerous journeys, and lack of support are making it near impossible for families who have lost everything to get the essentials they desperately need, such as clean water, food and toilets, to live safely and with dignity.
It doesn't have to be this way. There is about to be a huge opportunity to create a more welcoming world for people forced to flee – September's UN meeting on refugees.
With your help, we can make sure the UK Government walks in to this meeting, knowing that as a country we expect them to help people find the safety they desperately need around the world. It is the biggest opportunity of its kind in almost 70 years.
---
Take the #StandAsOne Photo Action!
---
Share what home means to you. Home means so much to so many people. Your answer will help push the UK Government to stand with refugees.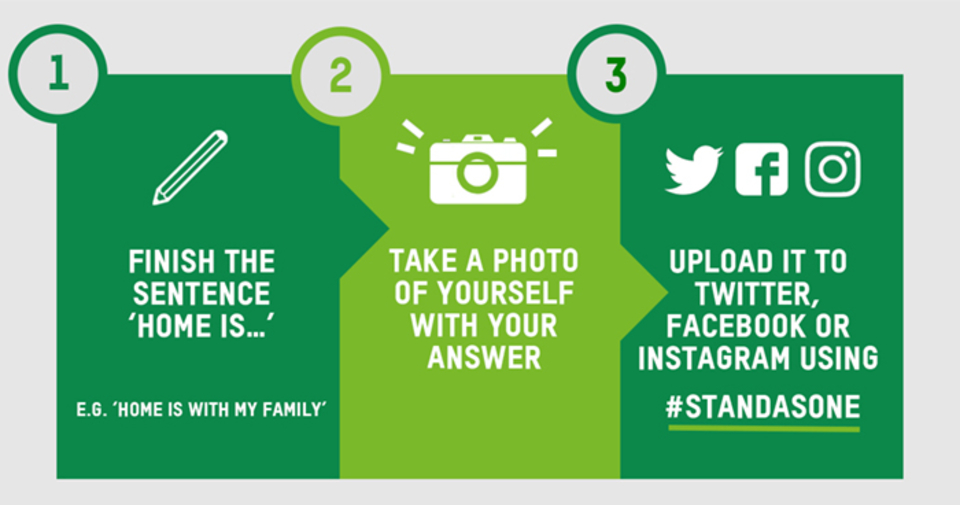 This is a simple but powerful reminder of what home really means to us all.
Your photo will form part of our call to MPs in September, urging the UK government to help deliver a different world where refugees are welcome, where people can find the safety and stability they need to rebuild their lives.
People need a long-term solution. They need to give their children a future. They need the opportunity to be together with their families. Home means so much to all of us. Take our photo action to push UK politicians to stand as one with refugees in countries around the world.