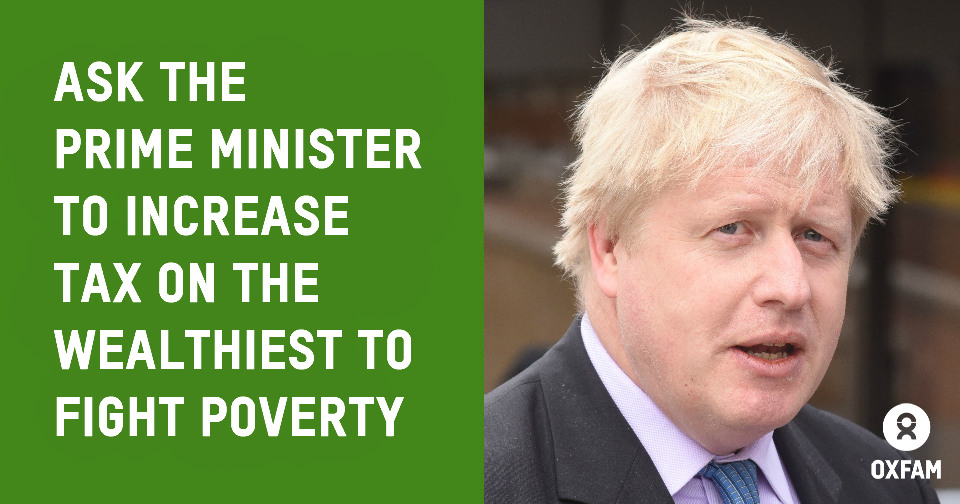 Let's ask the Prime Minister to increase tax on the wealthiest to fight inequality and beat poverty.
The increase in the wealth of the world's 10 richest people since the pandemic began is more than enough to both pay for a Covid-19 vaccine for everyone on the planet and reverse the rise in poverty caused by the pandemic.
The coronavirus crisis has swept across a world that was already extremely unequal. A world where a tiny group of over 2,000 billionaires had more wealth than they could spend in a thousand lifetimes. A world where nearly half of humanity was forced to scrape by on less than $5.50 a day.
Inequality means that more people are sick, fewer are educated, and fewer live happy, dignified lives. It poisons our politics, driving extremism and racism. It undermines the fight to end poverty. It doesn't have to be this way. Extreme inequality and poverty are not inevitable.
Transformative policies that seemed unthinkable before the crisis hit have suddenly been shown to be a possibility. There must be no return to inequality as usual. Instead, governments must use this moment to create a more equal and sustainable world.
Governments should be planning how they can raise enough money, as fairly as possible, to ensure that no one misses out on vital public services, goes hungry, or cannot make ends meet.
By increasing tax on the wealthiest, world leaders could raise more money to fight poverty at home and around the world.
For example, a new tax on the net wealth of the very richest in the UK could raise an extra £10 billion a year, which could be invested in fighting poverty and transforming lives, at home and abroad for a fairer Covid recovery.
It's all about the choices made by the world's most powerful people…
What's more, leading economists, and indeed some of the world's wealthiest people like Bill Gates and Warren Buffett, recognise the need for tax reform to ensure we can tackle inequality.
Boris Johnson himself has previously said that "the wealth gap has been allowed to get too big."
Let's ask the Prime Minister to increase tax on the wealthiest to fight inequality and beat poverty.