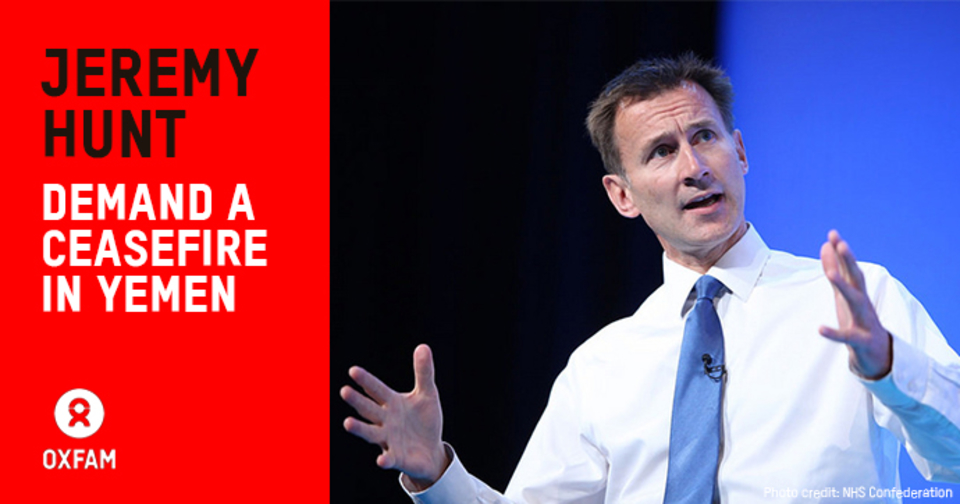 FOOD SHOULD NEVER BE A WEAPON OF WAR.
Millions of people are facing famine. Demand a ceasefire across Yemen.
The people of Yemen are not starving. They are being starved. Over three years of war has left millions facing famine. Nearly half of all children aged between six months and five years are chronically malnourished.
All warring parties, and those fuelling the conflict through arms transfers, are implicated in this totally man-made humanitarian crisis.
Farms and food supplies have been bombed and attacked. The currency has collapsed and the price of essential food items has doubled. Humanitarian aid is being blocked, while sickness and disease are killing people already weak through starvation.
Oxfam has reached more than 3 million people with lifesaving essentials – fighting cholera outbreaks with clean water and basic sanitation and helping families to support themselves with vouchers to buy food from local traders. This work is saving lives, but the ongoing fighting is pushing the country to breaking point.
The Foreign Secretary, Jeremy Hunt, has helped lead international efforts to agree a ceasefire around Yemen's main port of Hudaydah. It's a crucial step that will give people hope at a dark time – but Yemen desperately needs further action. People need an end to violence right across the country, and a halt to the arms sales that are fuelling the conflict.
We're calling on Jeremy Hunt to use the UK's leadership position at the UN to push for ceasefire across Yemen – not just Hudaydah – and to suspend UK arms sales to Saudi Arabia. We need your help to keep the pressure on him.
Food should never be a weapon of war. Please send this message to Jeremy Hunt and join our call to stop the suffering in Yemen.
---
"Dear Foreign Secretary,
I am writing to you out of extreme concern for the people of Yemen – to urge you to build on your efforts at the peace talks in Sweden and do all you can to help stop the suffering, including pressing for an immediate ceasefire throughout the country.
Yemen is facing the world's worst humanitarian crisis. More than 22 million people need urgent assistance, while millions of people are on the brink of famine. While the ceasefire in Hudaydah is a crucial step, horrific attacks on civilians continue. The UK's leadership in the run up to and at the peace talks in Sweden has shown that we can bring people together to ease the suffering of the Yemeni people. I am asking you to stop the ongoing sale of arms to Saudi Arabia for use in Yemen and to use all your influence to ensure the agreement for a ceasefire in Hudaydah is not only upheld, but that there is a ceasefire and an end to the violence across the whole country.
I hope you will continue to prioritise the people of Yemen, and call on all parties to the conflict to return to the table for the next round of peace talks in January to deliver a long-term solution for the people of Yemen. Please use the UK's unique influence at the UN Security Council to demand a country-wide ceasefire now, and demonstrate the positive role the UK can play on the global stage.
Yours sincerely,
[your name will go here]"