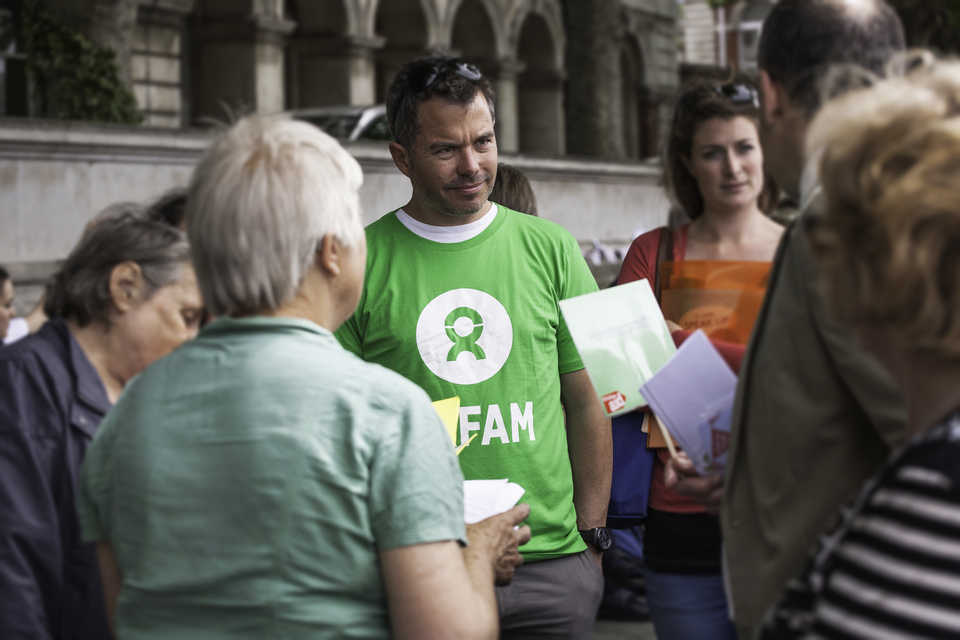 Join the constituency campaigner programme
What will I be doing as a Constituency Campaigner?
As a Constituency Campaigner you will regularly write to your MP about Oxfam's campaigns and occasionally go to meet with them. You will be invited to on and offline training and other events to build your Parliamentary knowledge and influencing skills. You will be supported to use these skills to influence your MP and other decision-makers on Oxfam's campaigns.
What support and training will I receive?
One full day's induction training in parliamentary influencing
A welcome pack with handouts on how to be an effective political influencer
Monthly online webinars with key Oxfam staff and people in politics
One-to-one support from Oxfam's small team of Constituency Coordinators by email or phone
Invitations to occasional parliamentary receptions and regional Constituency Campaigner Programme get-togethers
Regular email campaign updates and briefings on political and policy developments to help guide your correspondence with your MP
The role can be done in just a couple of hours a month with additional time for occasional meet-ups and training days a few times a year.
What can I expect to get from the programme?
In becoming a Constituency Campaigner and campaigning with Oxfam you will be making a real difference to ending poverty and suffering – you can be the reason why your MP turns up to vote on a vital piece of legislation or the person that neutralises a dissenting voice of an unsupportive MP. And together by working with the wider Oxfam campaigning network, we can help to unlock the root causes of global poverty.
You will learn new skills and gain experience in influencing politicians and other decision-makers. Our training will provide you with the opportunity to learn political campaigning skills, meet with other Programme participants and build your own campaigning networks. We will support you in getting your voice heard at the highest level – how much you get from the programme will be up to you.
It costs Oxfam time and money to train and coach our Constituency Campaigners. Selection therefore will be based on enthusiasm and commitment demonstrated. Please use the application form to tell us why you want to join the Programme. No previous experience required.